Contents:
XWAFA - Forum AnnouncementsXWAWT - What's Trending?XWABC - Birthday CelebrationsXWAEF - E-Fed News & UpdatesXWAFC - Wrestling Fantasy CornerXWAFF - Fantasy FootballXWAIM - Interview of the Month
(To go to a certain section, hold down CTRL and hit 'F' then type in the code next to the section.)
XWAFA
Writer: Myke (Inhaleminati)
Editor: N/A
August saw a couple of changes around XWA. First and foremost, the domain actually ran out. And our beloved address (XWA-Universe.com) wasn't working. The domain ran out while the admin team was discussing a new name for the website, which has been discussed before, but to no avail. Luckily enough, we are looking to change our name in the close future, so keep an eye out for those updates.
Secondly, Ian returned to take back his throne of Head Admin. Must be a relief for Chilly.
XWAWT
Writer: Myke (Inhaleminati)
Editor: N/A
The five most active posting users of August 2015 were:
Unfortunately... I was in the hospital during this time. I couldn't pull these statistics up in time, but the last time I checked it, was on the 29th or so. The five most active, if I remember correctly were: Ian, Chilly, Razor, Myke, and Realt. Not necessarily in that order, but Ian was definitely at the number one spot. You can all thank my kidney stone for not being able to pull up this information anymore.
The five most active topics of August 2015 were (Topics started in August only):
1)
August 2015 Newsletter
(88)
2 *TIE*)
Roman Reigns Involved In A Fan Incident At Saturday's WWE Live Event
(46)
2 *TIE*)
Dana White: "Fake Sh*t Should Be 9.99″
(46)
4)
Let's play poker!
(44)
5)
PPV Slam!: SummerSlam 2015
(39)
Additionally:


Ian returned!

Greg stepped down as Head GM and Razor took his spot.

TJ dropped a super hot mixtape.

The site got more cool backgrounds.

XWABC
Writer: Myke (Inhaleminati)
Editor: N/A
August's birthdays!:
The Show Off
turned 24.
Wickdtuk
turned 23.
Dante
turned 22.
Tim
turned 21.
Maestro
turned 16.
And to anybody that I missed: I do apologize, and of course, happy belated birthday!
XWAEF
Writer: Razor
Editor: Myke (Inhaleminati)
Razor was supposed to write this but was having computer issues. Razor, if you still want to write something, just send it to me and I'll edit it in. The main thing here to take in is that Razor is now Head GM.
And Shade is the LionHeart Champion. Somehow.
XWAFC
Writers: Myke & Chilly
Editor: Myke (Inhaleminati)
H2H Monthly Blog and Headlines
Kanto Mews Take Lead in the Conference - Looking like the Pace Setters
|| At last month's August edition of the Newsletter, it was looking as though the Acheron Xenomorphs (Storey) and the Denver MickNuggets (MFiSG) were going to be the teams to beat. Roll on forwards one month and it is the Kanto Mews (Snoopz) that are appearing to be the team to beat come the half way point in the regular season, taking an outright lead of the Conference with 20 points. In fact, rather impressively, the Kanto Mews did not lose a single game during the entire month of August and have not lost a single match since their only loss to the Acheron Xenomorphs on the opening game of the season. This can be mainly attributed to their activity in the first trade window, overhauling the vast majority of the team with instant points results. However, there may be a sting in the tail, as now the Mews do not have a single trade left for the rest of the season. Should someone get injured, it could play into the hands of the teams near the top of the table... ||
H2H Introduces the PPV Trophy (Name subject to Change)
|| With the success of H2H since it launched in July, officials have given the green light to a secondary, stand alone, tournament exclusively for the Pay Per Views events of the WWE. All current teams in the ongoing season shall take part automatically, but the gates have been opened to potential new teams that wish to get a taste of the action, before potentially taking part full time in Season 2.

The first round shall start at WWE's Night of Champions and anyone is welcome to take part. Sign ups for teams not already in H2H can be located HERE. The competition shall be run by Mick! if you have nay questions regarding how it all works, please feel free to PM either Chilly or Mick and we'll be glad to help! ||
Say Hello to Your New Enemy - H2H Rivals Launches
|| H2H recently announced the new Rivals system, whereby partaking H2H franchises can become 'rivals' with one another and the winners shall be declared Rivals Champions each time the two teams meet. Although this has no major ramifications for the overall H2H competition, it is designed to bring an extra element of life to the fantasy league and a few teams have already decided to take part. The first official Rivals game was between the Denver MickNuggets and the Outer Heaven Snakes (Chilly), with the Snakes coming out victors by 107 - 92. Bragging rights may not bring Playoff Championships, but they bring a whole lot of pride into the equation! ||
H2H Conference Standings
Official Match Scores from the Last 3 Game Weeks in August
|| Game Week 4 ||
Denver MickNuggets 58 - 104 Normandy Paragons
Future Flux Capacitors 86 - 79 Outer Heaven Snakes
Gotham City Justice League 68 - 107 Bionis Monados
Kanto Mews 107 - 14 Commentary Booth Gorillas
Metal Lands Anti-Precursors 27 - 85 Third Street Saints
Smurfville Bliggas 134 - 73 Acheron Xenomorphs
Suplex City Bitches 14 - 102 Lordran Sunlight Warriors


|| Game Week 5 ||
Denver MickNuggets 98 - 72 Los Santos Warriors
Future Flux Capacitors 60 - 23 Commentary Booth Gorillas
Gotham City Justice League 58 - 48 Lordran Sunlight Warriors
Kanto Mews 87 - 86 Normandy Paragons
Metal Lands Anti-Precursors 67 - 62 Acheron Xenomorphs
Outer Heaven Snakes 104 - 45 Third Street Saints
Smurfville Bliggas 67 - 59 Bionis Monados


|| Game Week 6 ||
Denver MickNuggets 92 - 107 Outer Heaven Snakes
Gotham City Justice League 77 - 88 Third Street Saints
Kanto Mews 75 - 64 Metal Lands Anti-Precursors
Lordran Sunlight Warriors 81 - 90 Acheron Xenomorphs
Los Santos Warriors 87 - 94 Normandy Paragons
Smurfville Bliggas 81 - 73 Future Flux Capacitors
Suplex City Bitches 21 - 87 Bionis Monados
PPV Slam! for SummerSlam was an exciting start to the competition. 17 people showed for it and there's already a three-way tie in the number-one spot. Ian, Burdur, and pegasus187 all gained 1100 points out of 1700. That means that they each predicted roughly 64% of SummerSlam correctly, while the person in last place (Johnathan Blade) who scored 400 points, only predicted roughly 23% of SummerSlam correctly.
The most common number scored was 1000, which was achieved by five people: TJ, Rob, Tony, Storey, and SouthernGentleman2006.
The average scoring of this event was around 914.
Also, a fourth way to earn money was introduced, called XPS. But to not bore anyone on the details of it, the information for that thread can be found here:
https://xwauniverse.forumotion.com/t28065-xps-night-of-champions-2015-matches
XWAFF
Writers: Burdur (Smurf on Fleek)
Editor: N/A
The 2015 fantasy season is set to begin this month. Let's get an overview of some of the teams' history over the years, particularly since the Burdur Commissioner Era took the league by storm with a revamped scoring system in 2013.
Coach Mexi
First we start with the defending champion, Mexi. He's been a member of the league since 2011 and has only missed the playoffs one time (back in 2012). Ever since the league switched to a new scoring system, Mexi holds a combined record of 18-7-1 with a championship from last year under his belt.
Mexi's first 3 picks this year: C.J. Anderson, Alshon Jeffery, Emmanuel Sanders
Click Here to see Mexi's entire team
Coach Red Sox
The person who Mexi defeated in the championship was Red Sox. Red Sox was part of the first ever tie in the league, against none other than Mexi earlier in the season. He's more of a newcomer, only taking part in the league for the past two seasons, however he has made his mark on the league quickly with a SB appearance already. His combined overall record is 16-9-1.
Red Sox's first 3 picks this year: Le'Veon Bell, Jimmy Graham, Carlos Hyde
Click Here to see Red Sox's entire team
Coach Drachen
Next we have Drachen who has made it to the semi-finals game for two straight years. In his first ever season, in 2011, he went 2-11 but ever since his return to the league in 2013, he holds the best overall record in the regular season at 19-7. He has finished as the #1 & #2 seed the past two regular seasons respectively.
Drachen's first 3 picks this year: Dez Bryant, TY Hilton, Mark Ingram
Click Here to see Drachen's entire team
Coach Pops
Pops is another one of the dominant teams in the league ever since the scoring change. Not only has he won the Super Bowl two seasons ago in 2013, but he also made it back to the semi-finals last year. He's been involved in the league since 2011 but struggled up until his Super Bowl year. Now he's been a consistent contender with a combined record of 18-8 the past two seasons.
Pops' first 3 picks this year: Jordy Nelson, Aaron Rodgers, Ahmad Bradshaw
Click Here to see Pops' entire team
Coach Ian
Ian's team has not missed the playoffs to date. He played in the league back in its first season in 2009 and then made a return after the Digg Commissioner era ended in 2012. He made it to the championship game that year and lost. In the past two years since then, he has a combined record of 16-10. He made it to the playoffs both years, including a semi-finals appearance in 2013.
Ian's first 3 picks this year: Jeremy Hill, Randall Cobb, Jonathan Stewart
Click Here to see Ian's entire team
Coach CB
Some see CB as kind of a laughing stock after some of the decisions he has made in past leagues. However, he has quietly made it to the playoffs in two of the past three years. He has been unable to get past the first round, including last year when he took the L against Red Sox in the first round. In the last two years he holds a record of 13-13 with his best season of 8-5 coming last year.
CB's first 3 picks this year: Jamaal Charles, Lamar Miller, Russell Wilson
Click Here to see CB's entire team
Coach Mack
Mack has been a part of this league since 2011 and made his first playoff appearance last season. He lost in the first round last year against the eventual 2014 XWA Fantasy Football champion. He struggled mightily under the old system but after the switch he has an improved combined record of 13-13 in the past two seasons.
Mack's first 3 picks this year: Marshawn Lynch, Frank Gore, Latavius Murray
Click Here to see Mack's entire team
Coach Huh
Huh is the only person to play in this league every year since its creation. He has made it to the playoffs a few times but after six years he has yet to get past the first round. He is tied for the most overall wins in the league with Burdur (42 wins) and had a good stretch of three straight playoff appearances until he missed the playoffs last season. Under the new scoring system, he has a combined 14-12 record.
Huh's first 3 picks this year: Rob Gronkowski, AJ Green, DeAndre Hopkins
Click Here to see Huh's entire team
Coach Burdur
While Burdur was dominant under the old scoring system, he has struggled thus far since the scoring change. He won two championships in the league and has three championship appearances but has gone into a slump. Over the past two seasons his team is a combined 13-13 and experienced a new low when he missed the playoffs for the first time last season.
Burdur's first 3 picks this year: Matt Forte, Justin Forsett, Alfred Morris
Click Here to see Burdur's entire team
Coach Rurouni
Rurouni has made one playoff appearance in five years in the league. He's still been a pretty solid team in the league until his catastrophic season last year, finishing just 1-12. Ironically enough, his only win came in week 1 against Mexi, the eventual championship winner. He has missed the playoffs both years since the new scoring system with a combined record of 8-18.
Rurouni's first 3 picks this year: Adrian Peterson, Brandin Cooks, Peyton Manning
Click Here to see Rurouni's entire team
Coach Dead
Dead has made one playoff appearance in four years in the league. He made his first playoff appearance in 2012 just before the revamped scoring went into effect the following year. In the last two years, he has struggled to finish with a winning record either year. He has a combined record of 8-18 in that two year stretch.
Dead's first 3 picks this year: Calvin Johnson, LeSean McCoy, Ben Roethlisberger
Click Here to see Dead's entire team
Coach TJ
TJ has had a rough time in this league to say the least. He made his first appearance two years ago in 2013 and since then, he holds the worst overall record in the league in that time span. His combined record is 7-19. If there's one positive thing to say about this team it's that he has never finished the league in last place… yet.
TJ's first 3 picks this year: Demarco Murray, Mike Evans, Kelvin Benjamin
Click Here to see TJ's entire team
Coach Saintpat
Saintpat's first season came last year and he just barely missed the playoffs due to a tie-breaker. He finished the season 7-6 and lost out on the #8 seed to Mack (also 7-6).
Saintpat's first 3 picks this year: Eddie Lacy, Andre Johnson, Drew Brees
Click Here to see Saintpat's entire team
Coach Broski
We have a returning Broski, who finished with a record of 9-4 and made it to the playoffs in his first try back in 2012. This will now be his first crack at the league during the Burdur Commissioner era.
Broski's first 3 picks this year: Antonio Brown, Melvin Gordon, Joseph Randle
Click Here to see Broski's entire team
Coach JAY
JAY also makes his return to the league after his debut back in 2013. The first time he played, he finished 8-5 with a remarkable playoff run that finally ended with a championship game loss to Pops.
JAY's first 3 picks this year: Odell Beckham Jr., Andrew Luck, Jordan Matthews
Click Here to see JAY's entire team
Coach MooseNugget
Moose is making his first ever appearance in the league this year.
Moose's first 3 picks this year: Demaryius Thomas, Julio Jones, Andre Ellington
Click Here to see Moose's entire team
The complete results of last season's playoffs: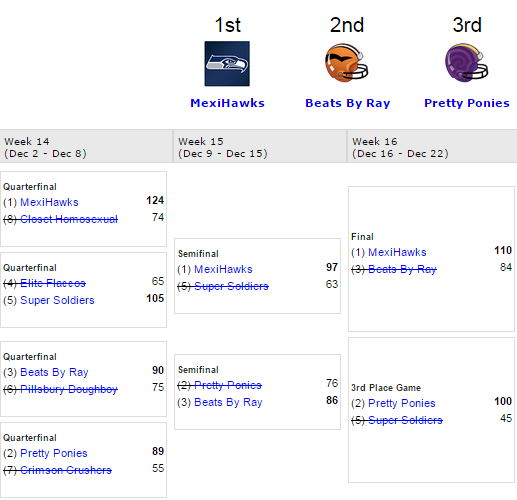 For the full history of all coaches and their overall win/loss records in the league, look here:
https://xwauniverse.forumotion.com/t6271-fantasy-football-coach-history
Now, going on to next season, first here are all of the draft grades according to yahoo: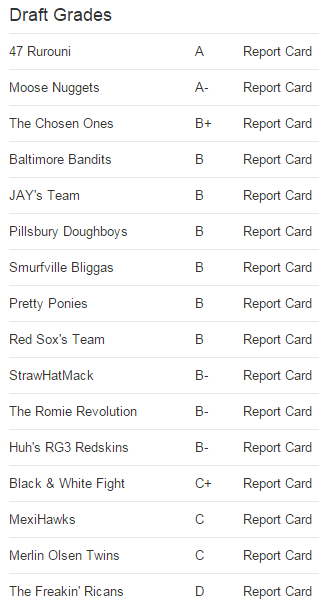 Finally, here is a look at the first ever XWA Fantasy Football Power Rankings from August:
Spoiler:
Get ready for another fantasy season full of clutch victories, heart-breaking losses, lots of trash talk, another new champion when the dust settles, and most importantly, the TJ meltdowns.
XWAIM
Interviewer: Myke (Inhaleminati)
Interviewee: Burdur
Editor: Myke (Inhaleminati)
Just so everyone knows: myself and Burdur couldn't coordinate something to talk back and forth to one another. So I sent him all the questions and he filled them out. So it's more of a questionnaire than an interview.
Q: How old are you and where do you live?
- 22 years old and living in northern New Jersey.
Q: What is a "Burdur"?
- It's an adjective not a noun.
Google it. And don't go all burdur on yourself trying to figure it out.
(It's just a made-up word by one of my favorite high school teachers who never defined it, but based on context it's more or less a synonym of going crazy or having a brain-fart / getting confused.)
Q: If not "Burdur", what would your general username be?
- I'm not very creative so I honestly don't even know. I felt like BurdurSmurf was actually something kinda creative (and obviously extremely unique as part of it isn't even in the dictionary) so I use that; even one of my emails is BurdurSmurf. Generally I just use something with my first/last name in it. Right now if I was just signing up on a random website or forum I'd probably use something with "fleek" in it.
Q: What do you do outside of XWA for a living?
- Right now literally nothing lol. About to start another semester of college but I also need a new job. Much earlier this year I was working in an office as an administrative assistant. I did a lot of Excel work and some more work on a few more advanced programs for accounting and tracking payables/receivables. Also did a whole lot of filing, ordering materials, and took some phone calls here and there. (No I wasn't a receptionist
)
I was getting unemployment each week since I got laid off that job and needed a way to make some money ASAP. Now that that's over, I need to look a lot harder for a new job.
Q: You obviously love football. Do you play it, or just enjoy watching it?
- I used to play it back in high school pretty regularly but never for the HS team. I played baseball for my high school team instead for all four years but I was always much better at football and basketball. I loved playing schoolyard football back in the day and still do every once in a while. For me it's my second best sport to play, just barely behind basketball, and best sport to watch, just barely ahead of basketball.
Q: Who is your current favorite wrestler? And why?
- It's currently between Bray Wyatt, Kevin Owens, Seth Rollins, Brock Lesnar and Sasha Banks. I love great heel characters (I don't think Brock is necessarily heel right now but still). I'm going to say Bray Wyatt even though I feel like they could do more with him. I don't even mean more as in "put him in top main event status", just give him more creative angles because he has a really creative gimmick and he plays it amazingly. I think he's great on the mic, a great wrestler, has the right reactions from the crowd and he just has a lot of potential so he's my favorite guy right now.
Q: Who is your all-time favorite wrestler? And why?
- It's between Undertaker, The Rock & Kurt Angle. I'm going with Undertaker because I respect his career so much. Such a badass character for WWE for so many years (and he had a couple different great ones). Amazing legacy with countless great rivalries, storylines and matches.
Q: If you could only watch one company of wrestling for the rest of your life, who it would be and why? (WWE, TNA, ROH, etc..)
- WWE easily. I actually liked TNA a lot for a short period (I wanna say roughly around 2008) because at the time I was getting so sick of WWE, and TNA brought something new for me. But honestly TNA just gets pretty exhausting... it's kind of a trainwreck a lot of the time and I can't handle it for a long period of time so I haven't watched more than an occasional random episode for many years now. I've never really given ROH or anything else much of a chance because I'm just way past my prime of wrestling-fandom.
The reason I choose WWE is first out of loyalty for how good I thought it was from 1998 to around 2006: not consistently but for the most part. Second, I've also really enjoyed getting back into it the past few years. I think they've improved so much since roughly 2007-2011. Around that period was a low point in wrestling for me and towards the end of that time (2010, 2011, 2012), I was starting to barely watch the shows as a result (maybe a couple hand full of shows and a couple PPV's a year). I've now gotten almost fully back into it, watching almost every PPV and easily over 75% of the Raw episodes in the last year or two. I'm really liking it as they have plenty going on now. It makes this choice very easy.
Q: How many live-events have you attended?
-King of the Ring 2001 (I was pretty young and it was amazing)
-No Way Out from a few years ago (so bad... I think the main event was Big Show vs someone in a cage match. I don't even remember cause it's kind of a bad blur)
-3 Raws... nothing really special happened in any of them. Mr. Kennedy made a return in one of them.
-A Smackdown back when Edge & Hogan were tag champs.
-WrestleMania 29 (pretty solid seats; really expensive; good experience; but it wasn't that great of a WM... I wish we went to the Raw after that when Ziggler cashed in
)
So 7.
Q: How do you feel about the Divas Revolution? Do you believe it's a bust (no pun intended) or do you feel it may actually work?
- I think it'll actually work. It's a process and right now they're in a transitioning phase. They've kept this 3v3v3 rivalry going on for a bit too long, and that's my one minor knock against them so far, but I don't see it as a problem while they introduce these new divas. Once they give some of these divas (Sasha in particular) more of the spotlight, she's going to shine so I don't see the problem in taking it slow rather than making the new divas the main focus immediately. It's always better to start off at a slower pace than to have a new superstar/diva jump right in too strong and then have that momentum die out from rushing into things. As long as they're not hurting anyone's credibility with their match result decisions (which they're not really doing IMO), then I feel like it should be fine once they start transitioning into solo feuds and what not. They're mainly jobbing people like Tamina, Naomi, Alicia Fox, and occasionally Brie right now... so I think all is good for the future of the Divas Revolution.
Q: Who was your first e-fed character?
- "Burdur Dogg" Kenny James
Q: Who was your favorite opponent?
Dante, the only opponent I showed against.
Q: What was your favorite match?
- vs. Dante... I ran his ass over with a fucking lawn mowing car thingy that I used for my entrances. #creativity #stillBSIlost
Q: If you could invent a title right now, what would it be?
- The World Fleek Championship; extremely low class title so the jobbers can be on fleek too.
Q: Do you prefer writing Single Matches, Multi-Man Matches, or Stipulation Matches?
- Stipulation matches. I think the one match I actually wrote was a ladder match and even though I know it was bad I kinda had fun with it since I had a stipulation to work with. However, a multi-man match would probably be most fun if I ever had one.
Q: How long have you been with XWA? And how did you come across XWA?
- Since the end of 2009 I think. I was kinda active on another wrestling site for like 1-2 years called wrestlingrevealed and it was starting to die out (I think it's still around as just a news site). One of the members on there randomly linked me to XWA. It's actually someone who's never been much of an active member on here and hasn't been around at all for years ("CharismaticEnigma") so that's kinda the weird part.
I never really joined wrestling forums besides wrestlingrevealed (I joined that forum after a few months of getting wrestling news from their website, then realizing they had a forum which I felt like commenting on). I ended up deciding to give XWA a shot too because as I signed up and was browsing around, 1) Digg was really welcoming and seemed like a cool guy, 2) I liked the layout and amount of activity compared to wrestlingrevealed's dying activity, & 3) I found a combination of the members and smileys made it a fun/entertaining environment. So not too long after that the other site was shut down and I just kept checking this site out.  
Q: How long have you been admin?
- Bad memory but I was an Admin I think twice on the old site for maybe like 2 years combined. When this new site was created I don't think I was an Admin and then I became an Admin just after whenever Mink's Admin campaign took place.
Q: Have you ever been banned on XWA? If yes, how many times and for what?
- Never been banned. I think an Admin once banned me for a little while just from BSing around but I don't remember the details.  
Q: What do you like most about being admin?
- I can show clowns like Mexi who's boss. (I also just like trying to help the site and kinda being part of the decisions.
)
Q: What do you like least about being admin?
- You gotta do shit.
(Really just the thought of having to consistently make some time to do certain things, but it's not that difficult... at least for my job
)
Q: Who is your XWA best-friend?
- I wanna say Huh but I don't even know that guy anymore. He's all about that turban thug life now.
Honestly, for me it's probably Mexi even though he doesn't know wtf he's talking about half the time and likes to hate.
I also really, really, really like getting Razor mad. Sometimes I'll even say something I don't believe just to piss him off.
#Besties4Lyfe  
Q: Who do you miss the most that either no longer comes onto our site, or never joined this particular version of it?
- A couple people but mainly Digg. Digg #1
Q: Why not just ditch us and join a fantasy-football site?
-
Good idea.
Nah, I just don't really find an interest in joining sites/forums and this is a forum I've come to love so I'd rather not find something else. Plus, I do enough fantasy football anyway between this site and then some leagues with friends.
I like this site for more than just fantasy football. <3
Q: What is your favorite aspect of XWA? (The fed, the forum games, the members, etc..)
- The members and the features (fantasy football, prediction leagues, fantasy wrestling). It's kind of a chill atmosphere most of the time. Sometimes there's also a massive rise in drama, and while it can cause some problems by going too far, I also find it pretty damn entertaining.
Q: Where do you see XWA in five years?
- Honestly, still alive but in the same/similar situation. I feel like there's enough loyal members where it won't die out or shut down entirely but I think it's gonna be tough to make it bigger than it is too. 100% honesty: in 5 years I see the site generally having the activity it has had in the past month or two (which to me personally I wouldn't say that's bad anyway) or in a more hopeful manner maybe it'll be closer to how it was in its prime of activity.